3rd International CellML Workshop (2009) report
The combined CellML SBGN SBO BioPAX MIASE Workshop was held at Waiheke Island, New Zealand from 5th-9th April 2009.
The combined CellML SBGN SBO BioPAX MIASE Workshop was held at Waiheke Island, New Zealand from 5th-9th April 2009. 32 speakers presented their research and over 50 delegates attended the meeting, including visitors from the UK, Ireland, Singapore, Germany, America, Japan, and Australia. The presentations were divided into themed sessions and following each set of talks there were chair-led group discussions. We were not disappointed. True to form, some of these discussions were rather "lively", and all of them were considered to be productive. 

One of the most positive outcomes from the CellML "et al." Workshop was a community consensus towards the interoperability and connectivity of biological standards, ontologies and domain specific languages. In last few years several domain specific standards have been developed. For example, amongst the systems biology community, there are the Systems Biology Markup Language (SBML), CellML, BioPAX and many other standards specialising in the different aspects of computational modelling. Historically the development and maintenance of these initiatives have been relatively independent. However, we have come to recognise the value and importance of combining our efforts and resources. We acknowledge there will be never be one single standard to satisfy all requirements, but we are looking towards a more united future.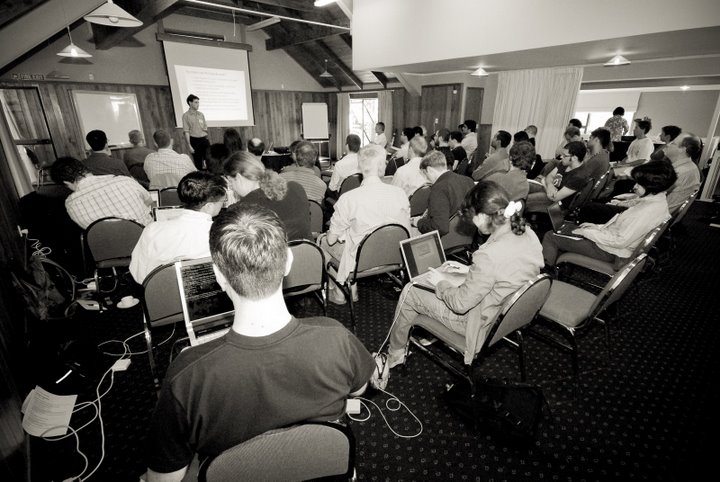 The workshop was convened in response to the global issues of model provenance, annotation, exchange, interoperability and integration. The workshop began with an introductory talk on the evolution of CellML, and the remainder of the first day was devoted to presenting and discussing the tools and technologies associated with the CellML family. Members of CellML and SBML community came together to discuss complementary issues such as modularity, events, and time delays and, in addition, there were discussions about how to implement interoperable spatial & hierarchical models, most notably using FieldML and OpenCMISS.
Highlights of the day 2 programme included discussions on model repositories, model exchange and the encoding of simulation description metadata. In particular, participants shared their thoughts and opinions on the draft guidelines for reporting minimum information about a simulation experiment (MIASE).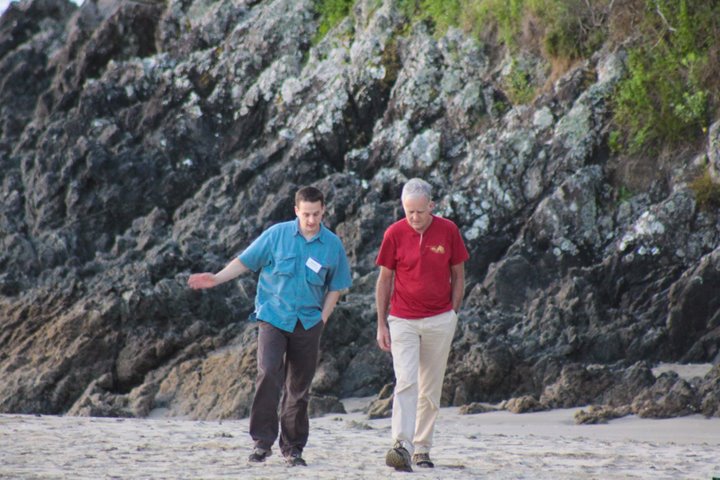 The focus of the third day was ontological representation, model annotation, and visualization and the application of ontological annotation to enforce multi-scale interoperability of data and models related to the Virtual Physiological Human (VPH) project.

Finally, the fourth day talks led to a discussion on standard interoperability and the technical hurdles faced by trying to map between different standards. The idea was raised that we could have an umbrella organisation for systems biology standards, similar to the Open Biomedical Ontologies (OBO) effort. This organisation would focus on language interoperability, joint meetings, improved converters and generally raising community awareness of the different standards. The languages will remain independent, as they fulfill slightly different niches in the field of computational modelling, but we believe there will much to gain from meeting regularly and dedicating time to discuss language interoperability and interconversion. Further the allocation of resources to develop the necessary software infrastructure to support such a relationship.
Some other key conclusions to come out of the meeting were as follows:
The adoption of the same methods for describing simulation metadata (MIASE and SED-ML).
CellML and SBML models will be visualised using SBGN
For model annotation MIRIAM URIs will be implemented
There is a plan to bring more physical terms into the Systems Biology Ontology (SBO) in order to mirror the Ontology of Physics for Biology (OPB). It was also highlighted that the ontologies used by the SBML community are insufficient for annotating the electrophysiological models in CellML. This may be resolved with collaboration with OBO.
We need to coordinate our model curation efforts.  It has been noted that there is a considerable overlap between the content of the BioModels Database and the CellML Model Repository. The curators are working together to define a single standard for model curation, and are also trying to curate different models and then exchange them. Such model exchange will be facilitated by improved language interconversion tools.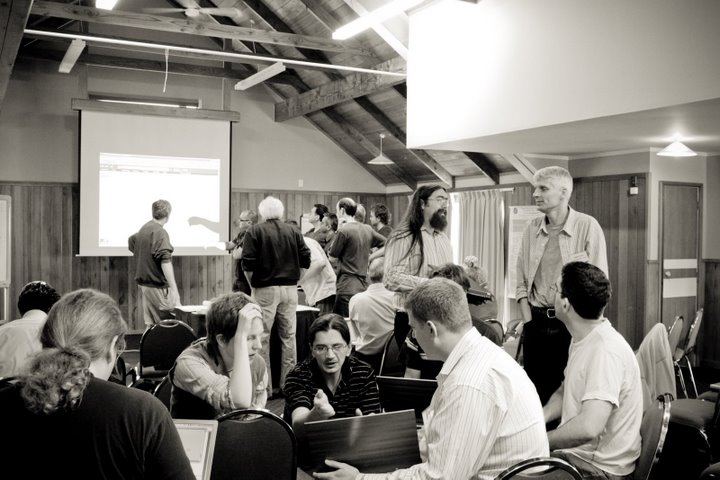 At the request of those who were unable to attend the workshop, all of the presentations are available in PDF format for download from the workshop website. The proceedings were filmed and the sound recorded, and once this footage has been processed and edited it will also be made available for download.

Thank you to everyone who attended, and contributed to, the workshop – especially those who travelled from Europe. It was refreshing for the antipodean community to be able to attend an international meeting and not to have to suffer the effects of jetlag! Further, this meeting took place right after the SBML Hackathon and the BioModels Meeting in Hinxton, UK, and many of the delegates at the Waiheke Workshop attended all three meetings. It has to be agreed that this was an admirable effort, as was highlighted by one anonymous delegate:

"At this rate, the joint standardization efforts will turn into a month-long annual conference. It will become like a neutron star, so dense that its gravitational pull will attract surrounding meetings into itself."

Poetic… But I think that even this person will agree that this workshop was a great success, and it was well worth the effort of travelling to the other side of the world.

We hope that this will be the first of many future combined meetings within this community.